For the last few months we have talked about everything from the history of the renaissance festival to how to go about getting your own garb. Well after all that waiting the time has finally arrived! Labor Day weekend marked the 30th anniversary of the Ohio Renaissance Festival!
---
The unique stories of the 2019 season begin to unfold
As promised, I always take the time to hit all of the shows that will give me this year's Tales of Willy-Nilly in four acts. The play started off at Opening Gate with the pompous Lord Norfolk patting himself on the back for all the work done to prepare Willy Nilly for the Queen's arrival. The peasants took this in stride, making sure to petition the Queen herself for permission to revolt against Lord Norfolk! With that, the tale has begun but I wouldn't dream of spoiling it for you! You'll just have to come and see for yourself what happens next!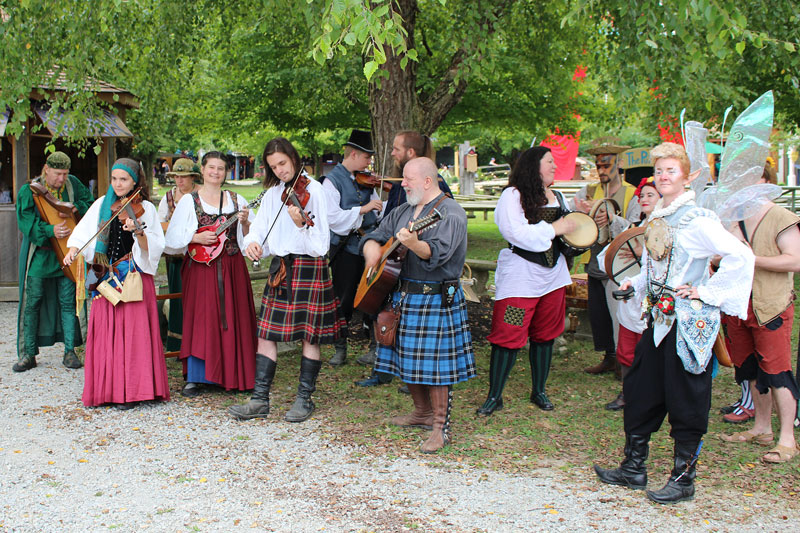 With Saturday starting off cloudy but surprisingly cool, you couldn't have asked for a better way to begin this season. As the canon fires and the crowds rush through the gates they are greeted by a throng of the best ORF has to offer. This is a great opportunity to grab your map, figure out your plans for the day, and get a peek at some of the talents that grace this venue!
In the field across from the Rose & Crown Pub, you'll see a big group of villagers gathering shortly after the opening canon. Hang around a little while and you'll see the Queen make her way there for court dance! This is one of the great photo ops for those who are brave enough to join in the circle and learn some Elizabethian court dance. The village is known for really coming out here, so you can get to know all of them if you come early and introduce yourself.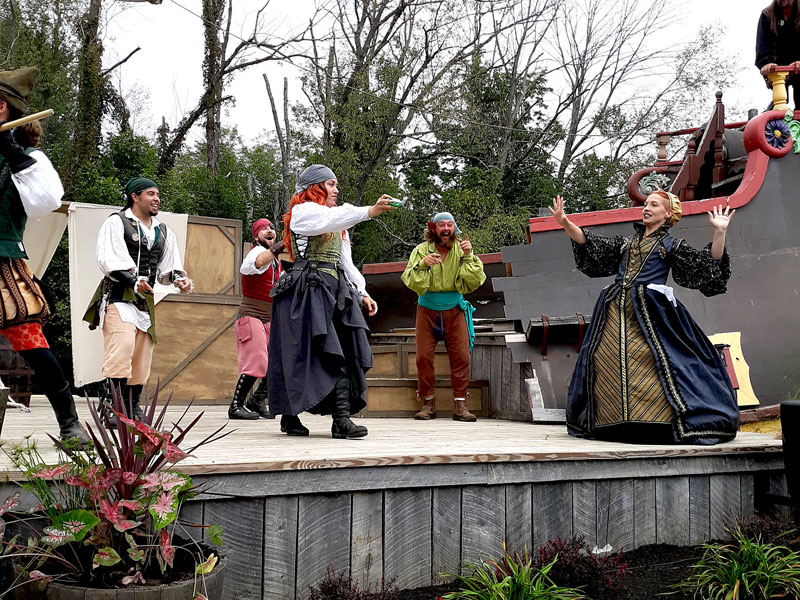 The Pirate Comedy Stunt Show at the Shipwreck Stage is always one of my personal favorites! A delightful blend of stunt choreography and comedy, there is so much action happening on stage that you have to go more than once to catch everything. As one of her Majesty's privateers pouts about having lost his ship, Sir Francis Drake has come to solve the problem before things get out of hand! I grabbed a seat up front, took off my hat, and tried not to let the camera shake when I started laughing.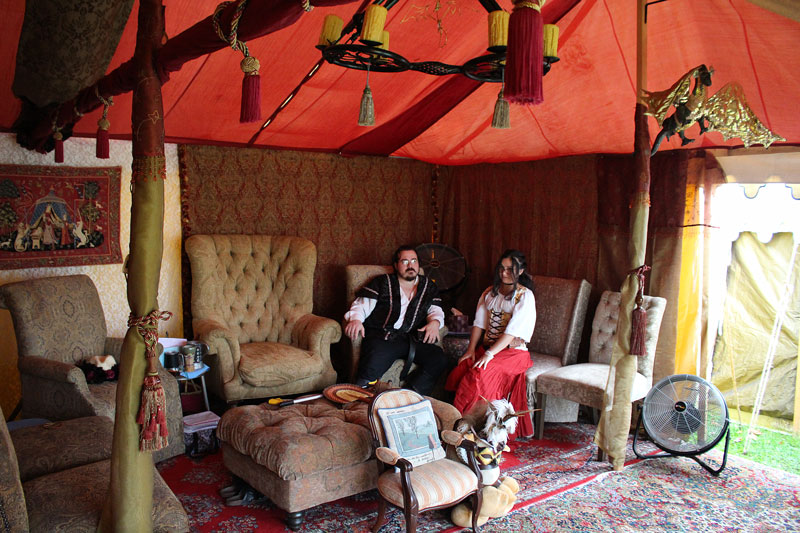 After the show, I headed over to the all-new ORFans Lounge, a special area with shade, comfy seating, and ice-cold drinks. It's right behind the Aleing Knight Pub, but you have to be a member of the ORFans group to get in! If you didn't get it yet, that's no problem. They'd be happy to process you right at the tents and get you set up. This is a lovely area to kick back and relax. The Jasmeson's Whiskey Tasting is right next door and the Chess field is across the way. I'm sure it will get even bigger as time goes by.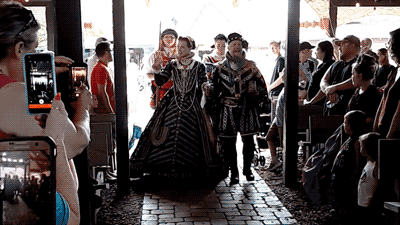 Knighting Ceremony always brings a sense of ceremony to ORF. The Queen appears, gliding across the floor of St. Peters Church and waving a welcome to everyone. The crowd is taught how to bow and address her majesty, building up the pomp of the moment and making it all the more real to the people who came. The Knighting Ceremony isn't limited to children. It allows for everyone to come forward and be acknowledged in any way their imagination allows. There was a surprising amount of 'Dragon Tamers' and 'Dame Mermaid' mixed in among the knights and princesses. Each of them walking away with a smile and a certificate.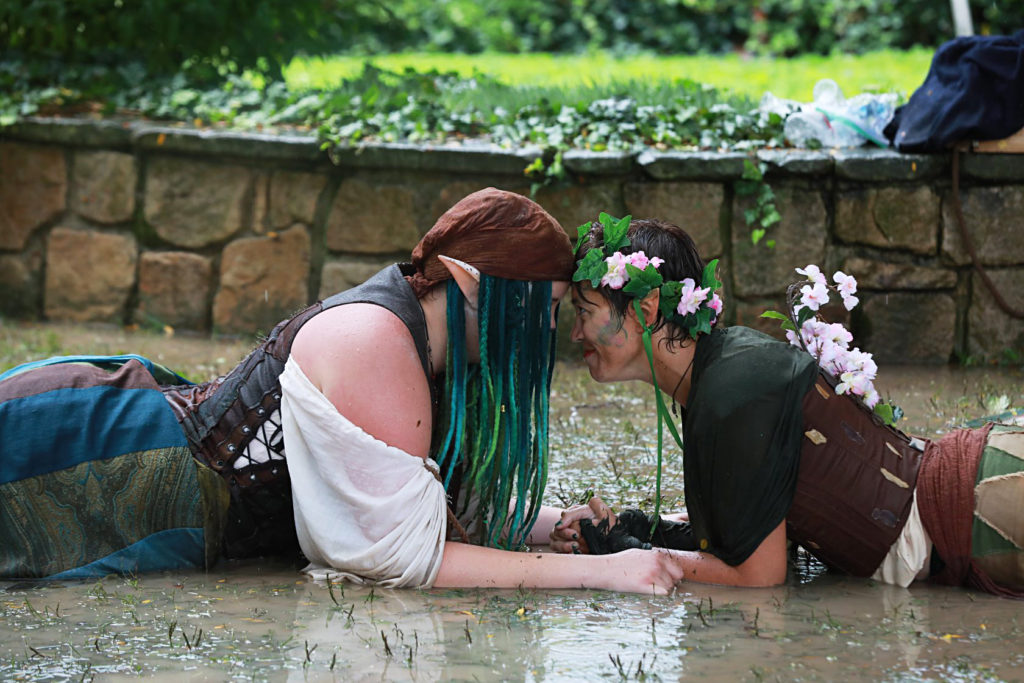 There's a saying around ORF. "What happens when it rains at a ren faire? You get wet!"
…alright so maybe it's not that funny. But the point remains. Faire goes on in rain or shine, snow or wind. So even when the downpour begins the party doesn't stop! Most people grab a seat in a pub where they can get a drink and listen to some music. But if you're taking shelter in a booth you may still find some interesting entertainment! As I passed into the Son of Sandlar booth, I found Stuart Siskanovich performing juggling tricks to the delight of the children and their parents.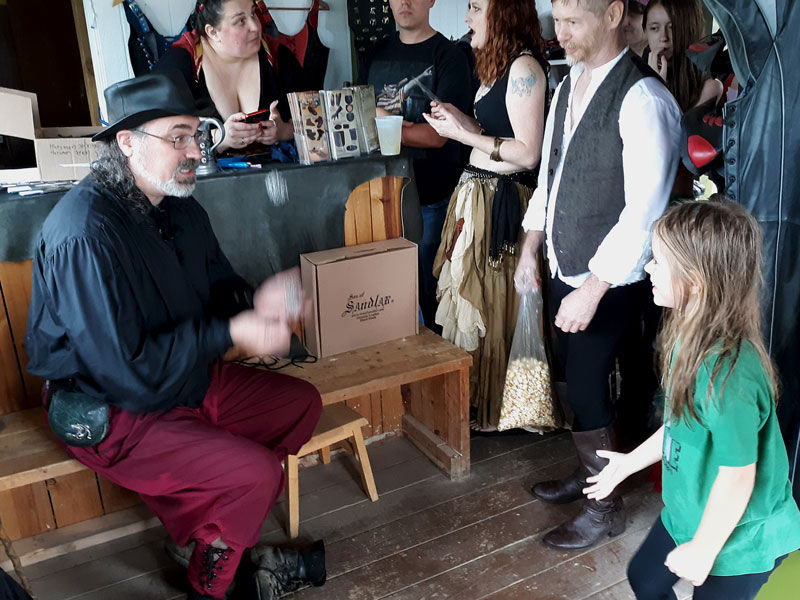 These are memories you can't replace, little moments that capture the imagination. You won't find it anywhere else. When it rains, some of the acts have to switch things up. But that's never stopped cast before and it won't stop them now!
As the sun broke through the clouds the lanes picked up again. One of the best things you can do during faire is to just wander and see what catches your eyes. I like to do at least one or two rounds during the weekend and catch up with people I haven't seen since last season. As ORF grows you make friends that stretch out across America. It's always a pleasure to see them return to Ohio and I look forward to hearing what they've been up to. There is always something going on you may not know about! Maybe a Playtron group is having a meet-up or sometimes a LARPing group visits and plans for a special campaign. Let yourself get drawn into the fun.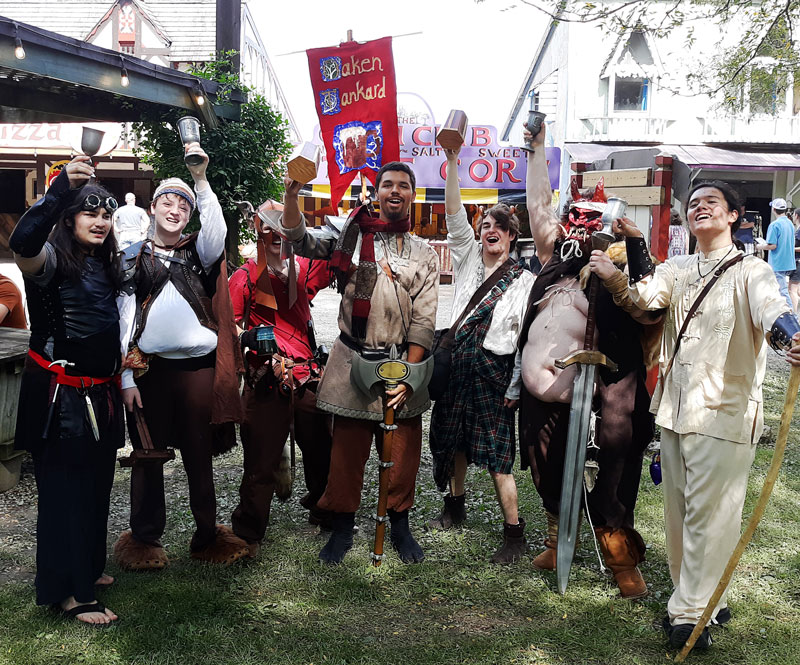 At 5:00 the Pub Sing begins, pulling together singers and stage acts from across for the faire for one big burst of fun before the festival closes for the day! The lines start early so be sure to get a seat and send someone to grab the drinks. Once the fun gets started you won't be able to find a spot. The mood rises as the first group takes the stage and you get swept away in their beats. One after another, from music to improv groups in a non-stop joy ride till last call.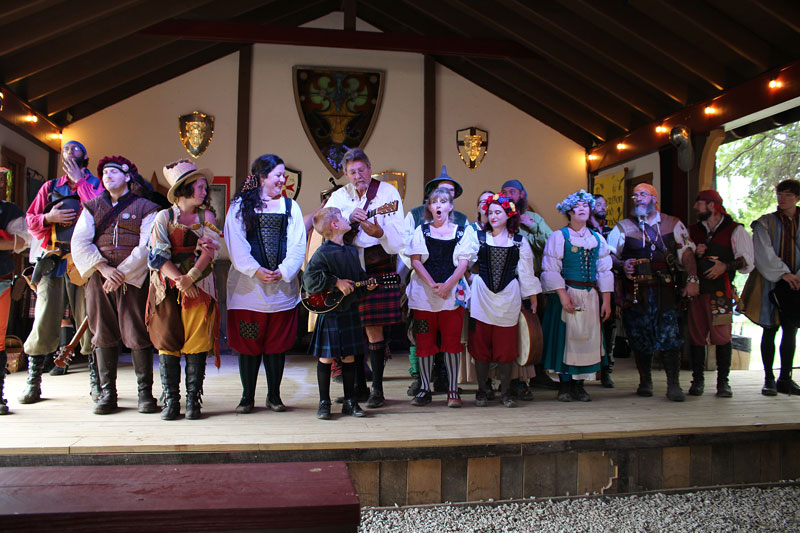 Finally, the Closing Gate calls. It's wonderful to watch the entire cast come together and celebrate the end of the day, saying goodbye to all our guests with the song 'A Parting Glass'. As the sun sets over the hills, the gates are opened wide and everyone waves to you on the way to your carriage.
But the fun isn't over yet. At least not for the Rennies.
---
Faire after the gate closes
As the grounds empty out, the lights come on for us. Bodices are pulled free and cargo pants replace bloomers. Everyone rushes to either run home and grab a shower or take advantage of the ones in their trailer. The cast has it's own campgrounds, as do the stage acts. It's not uncommon at all for everyone to have their own little afterparty. Cast likes to get together at local eateries before coming back to chat around a bonfire. While stage acts tend to get to bed early since they have shows to do tomorrow.
Me? I went to Blues Night.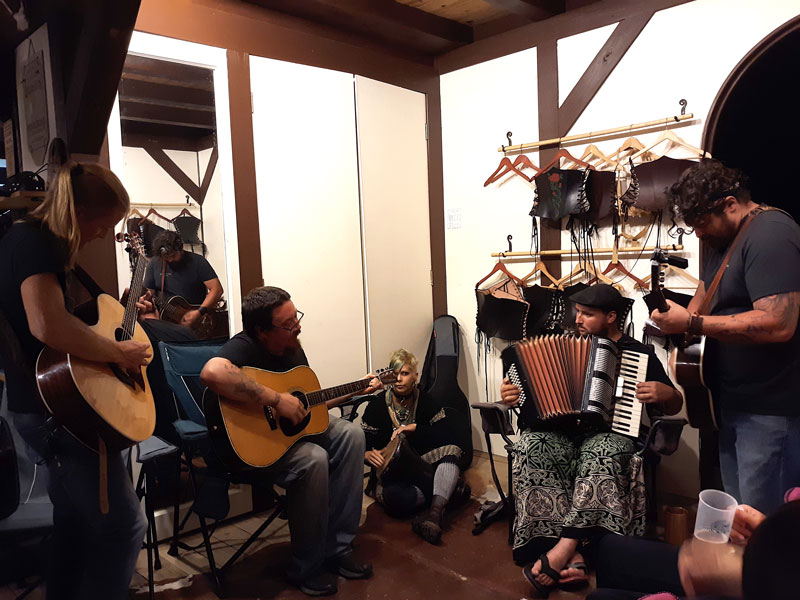 Blues Night is a semi-impromptu little congregation that happens around the Brown Cow. A cluster of friends and boothie minions who come over to grab a bite to eat, make some music, and enjoy the downtime. Everyone props up a chair and drops a couple bucks into the tip jar as a thank you to the lady of the house for going to all the trouble of cooking. People bring some pot luck for everyone to dig in to and soon enough everyone has a plate. Drinks are passed around, and as the stars come out somebody pulls up a guitar.
The next thing you know there's a drummer, an accordion, and a saxophone playing in beautiful harmony. Rennie brats are running around on the field with one another in between their parents trying to get them to take a bite of dinner. There's a lovely flow of consciousness conversation happening. Once it gets nice and dark a couple of fire spinners pop up to show off their talents, giving us a good show to enjoy.
Rennie brat: the child of a rennie who has been raised at faire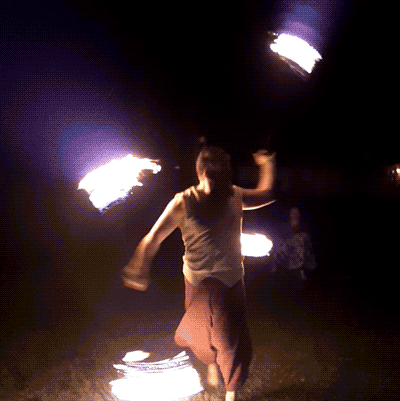 This is a part of the faire culture. As you look out over the group you can see the truth that the average patron doesn't get to see. The friendships that are built here, the families that blend across festivals. Just a bunch of weirdos playing around in the cornfield. There is a special community we get to see, and I'm thrilled as ever to be a part of it.
There are 8 weeks of the Ohio Renaissance Festival left, and I can't wait to experience each and every one of them with all of you!
Next Up: Time Travelers Weekend!
---
Great Moments From Opening Weekend
---
Standout playton garb from Opening Weekend