The chill of winter has settled into the air. The fire pits crackle merrily in the lanes. The glow of lights dance like fairies from every tree and trellis of Willy Nilly! From the gates to the pubs, everyone is ready to experience the joy of the season by visiting the Yuletide Village, Season of Lights at Renaissance Park.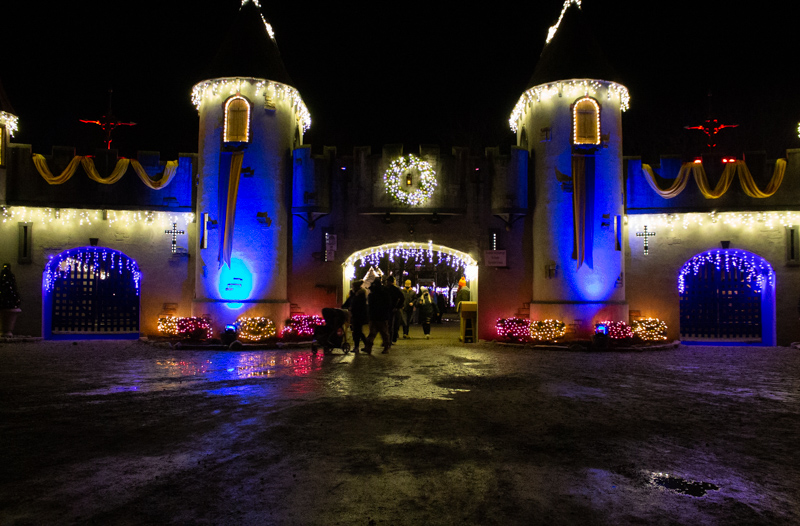 The gates shone brightly as the first visitors arrived. I was very excited to see everyone again. Festival season was understandably short this year, so Yuletide provides a welcome opportunity to connect, in a socially distanced way. I know Magical Days, Madrigal Knights was only a month ago, but it's been a month too long! I was thrilled to see how well people were handling the mask mandate, the cold weather giving us ample encouragement to keep our faces safely covered.
We took our first lap around the village to see what all they had done. Fairyland stood out as a whimsical spot with softly glowing baubles and lights draped about the area. It was so cute to watch the little kids' fascination with the color-changing baubles along the pond. Most folks stopped here to get their first photo ops of the night under the large tree with dangling lights sweeping overhead.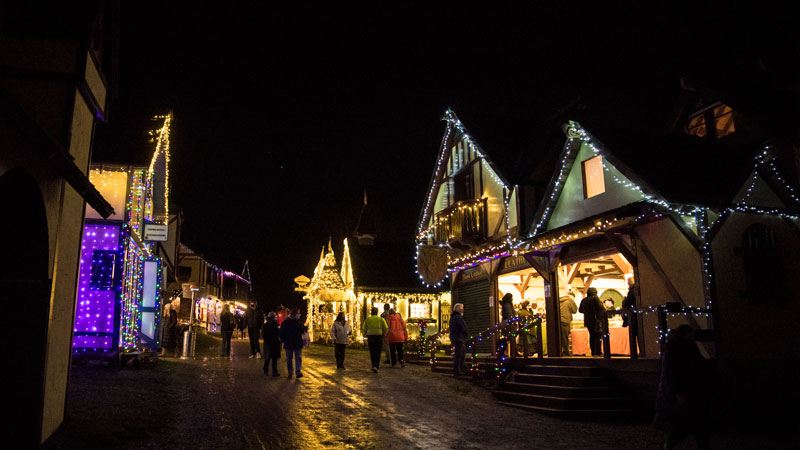 Vendors went out of their way to make their booths and tents stand out. Each one looked like it's own little workshop full of unique presents for all ages. They had beautifully handcrafted wooden toys, warm furs, sturdy mugs, beautiful jewelry, and more waiting around every corner. It's a really good opportunity to find unusual gifts for your loved ones, and you shouldn't say no to a little something special for yourself.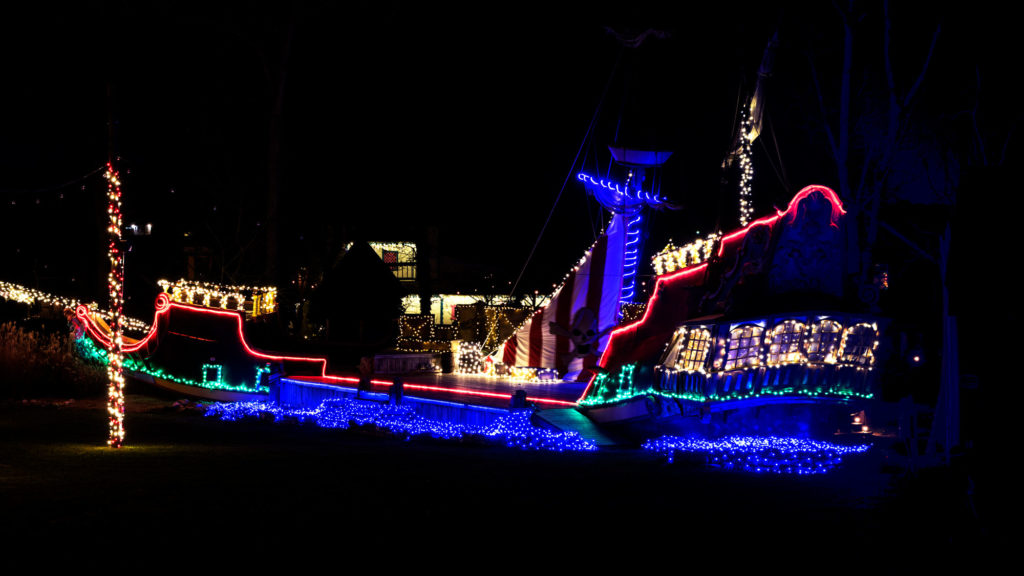 The pirate ship was brilliantly lit up, bedecked from deck to crows nest as if sailing on glowing blue waves. Across the hill was row after row of candy canes, leading the way to the ousting area for a lights and musical display! Seven magical trees light up the dais, flashing along with popular holiday music. This show plays about every twenty minutes, so if you miss it the first time don't be worried. You can run back by and catch it again anytime.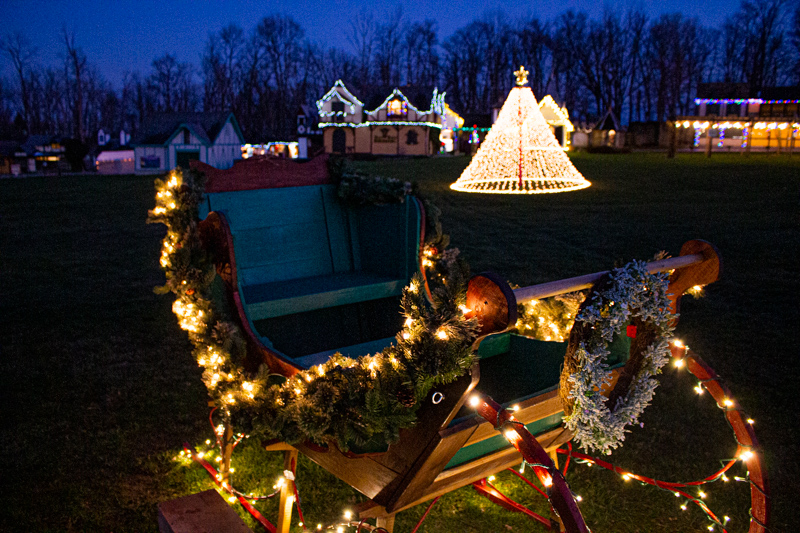 Over on the Upson Downs hill stands the massive Tree of Lights, with white strands cascading down to the ground. From the bottom, you could look up and see the star on top as if it were a part of the night sky. Across from the tree was another perfect spot for a family photo op, a hand made wooden sleigh donated by Lost Viking Hoard. This is a great place to grab an extra special pic with the tree in the background, so be sure to pop by with a camera ready.
The Y-Bridge overlooked an eerily glowing 'river' made of swirling blue lights, creating a peaceful little corner of the festival. Lighted reindeer prance along the shoreline as if waiting to grab a drink before flying off into the night. St. Peter's Chapel was beautifully adorned, holding a special kind of brilliance during these seasonal events.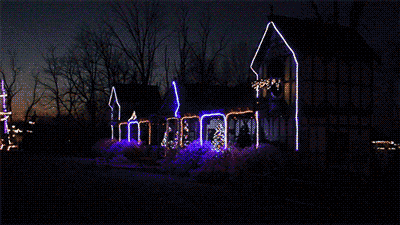 Everywhere we turned there was something new to look at. I frequently saw people just sitting back on a bench and taking the time to appreciate their surroundings. The kids were extra excited to run around and play, taking advantage of the wide-open spaces of the hillside to let out their energy. Parents were trying to get them to settle down enough to eat something before they sprinted off again. I saw a lot of people choose this for their holiday visit, I think because they feel more comfortable with it being outdoors. Friday night was a bit less crowded with the event starting just after people were getting off work, so if you're looking for a little more distance in your social distance, I'd suggesting hitting it on Dec 11th and 18th.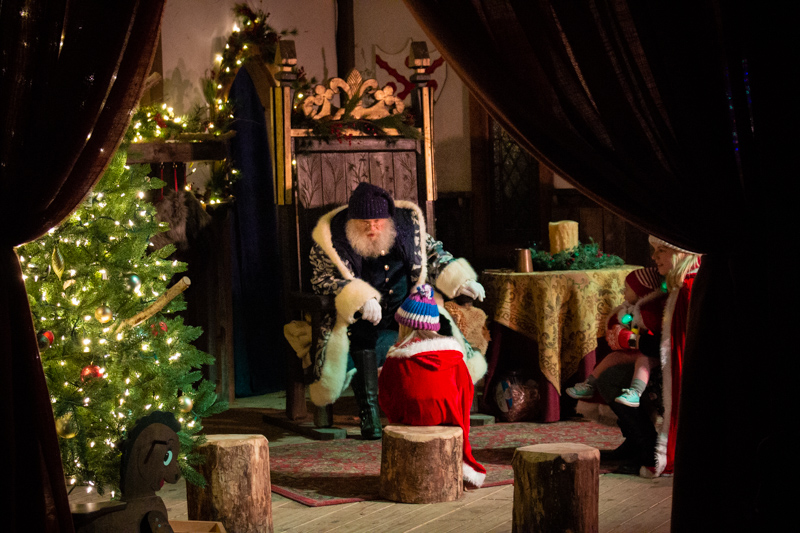 Next week we'll talk a bit more about what kind of entertainment you can expect and who you'll see out at the Yuletide Village!
PSSST! Did you know if you get tickets online you can enter the festival half an hour early? Get your tickets now and come in at 5:30 pm!