Nothing beats faire food! The Ohio Renaissance Festival goes all out to provide a variety of options for you to choose from. Around every corner is a food stall, a snack booth, or a pretzel seller offering you a tasty treat. We all have our favorites, I personally love the gumbo from KJ's Cajun Cuisine. Whether you're ready to get filled up or just looking for something light, these are the Top 10 meals as voted by the ORFans!
---
#10 Teriyaki Salmon Sandwich – Rose & Crown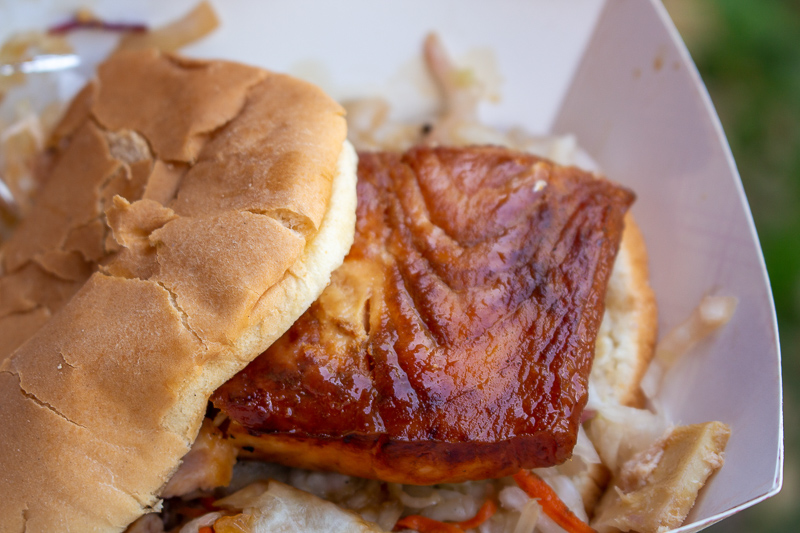 If you're looking for a lighter option that isn't lacking in flavor, this sandwich is a great option. The tangy glaze is well paired with coleslaw and it won't sit heavy on your stomach on a hot day! Stop by to grab one and try it for yourself!
---
#9 Meat Pies – KJ's Cajun Cuisine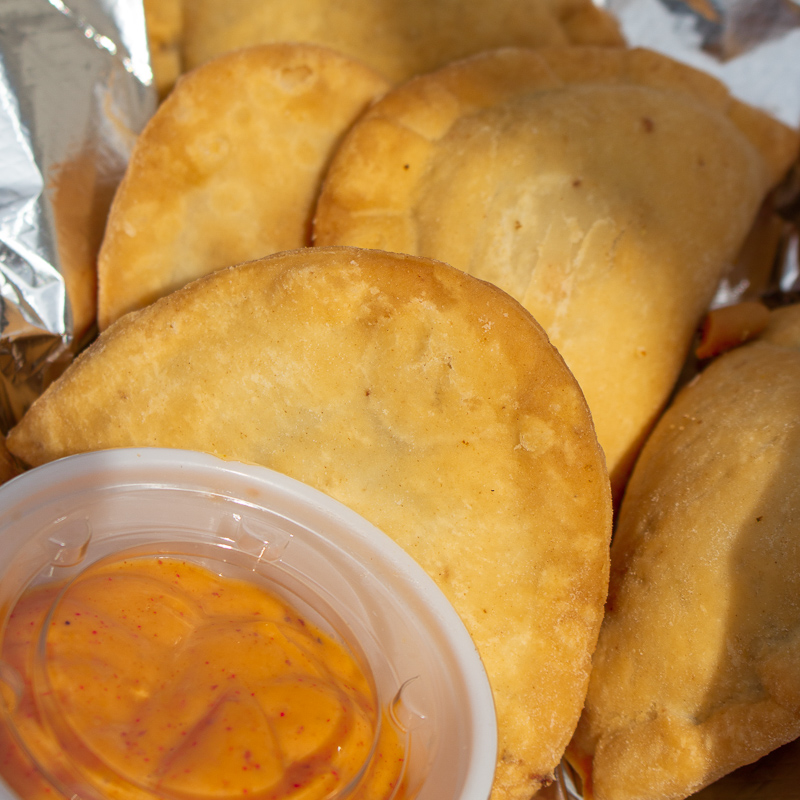 Flaky, buttery, and oh so good with the remoulade sauce, these suckers are perfect to split with friends. They're best at around 11:30 when they're being popped out fresh and crispy. I love these little things and they're a favorite around the faire!
---
#8 Chili Lime Tacos – Marco Polo Grill
Right next to the Y Bridge is the Marco Polo Grill, where you can grab one of these delicious tacos fresh off the grill. The chicken is juicy with a citrus finish and makes for another of the amazing lighter meals around ORF.
---
#7 Lions Heart – Archibald Drakes
This monster of a meal is pulled pork, fried fish, and french fries all on a fresh bun! Defiantly for those of us who like a big meal, the flavors work beautifully together and I live for that crunch as you bite down into the different layers.
---
#6 Bang Bang Shrimp Tacos – Marco Polo Grill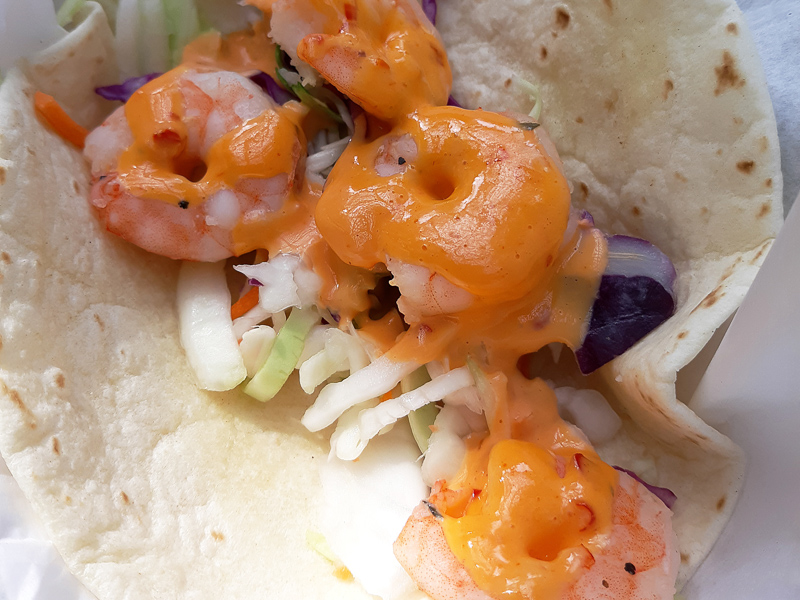 If you like it spicy this is the one to get your hands on. The sauce is creamy and pairs well with the crunchy coleslaw and hot shrimp. You can also get 3 tacos for $10 here, so feel free to try more than one flavor with your friends!
---
#5 Mac & Cheese – Bread Bowl
This is one of the best things to get, especially if you're trying to feed more than one kid on a budget. They don't play around, these bread bowls are overflowing with creamy mac and cheese till it spills over. Grab one during the cold weather to keep your belly warm all day long.
---
#4 Combo Plate – Jerusalem Cafe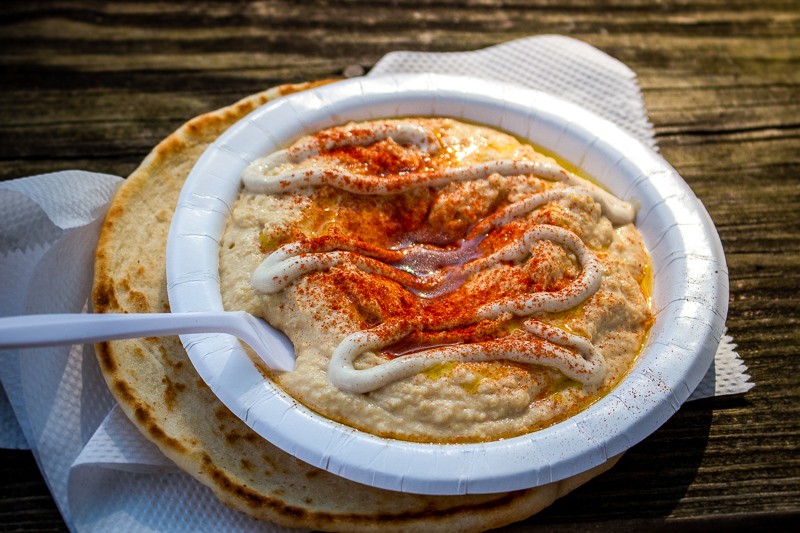 Stop over at the Garden of Eatin food vendor area for something a little different. The Combo platter is perfect for a family as it includes a sampling of their menu. I like to get an extra serving of hummus to dip the chicken in, and the warm naan is super yummy.
---
#3 Fish & Chips – Archibald Drakes
Who can turn down crispy fried fish and chips? I like mine with a little tartar sauce while others like it with malt vinegar and lemon juice. The fish is crunchy on the outside, flaky on the inside, and savory all throughout. So go grab a basket this weekend!
---
#2 Potato Crab Barrels – Rose & Crown
Thick rich potatoes whipped around with chunks of crab meat, deep-fried and served with dipping sauces. I could seriously eat these for three meals a day! You can always lick the sauce off your fingers but I'd rather go back and grab another basket to 'share'.
---
#1 Bourbon Chicken – Bourbon Chicken Booth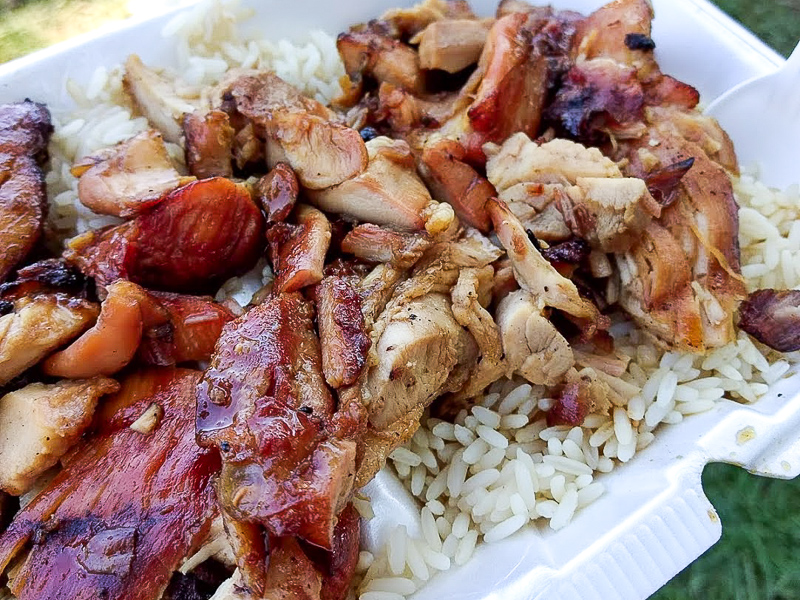 Sticky sweet sauce, perfectly grilled chicken and puffy rice! Could you ask for anything better? Bourbon chicken has gained in popularity here at ORF and you can find it over by the Dungeon of Doom. You can even take a bottle of their sauce home with you!
---
With so much to choose from, why choose?
ORF has so much more than just turkey legs to chow down on! My plan is simple. Bring a few friends and have everybody get something different for the table to share! That way you get a bit of a bite from all the different eateries. Don't forget to drop by some of the snack booths for honey roasted nuts, sweet corn dripping with butter, apple dumplings and more!