You may have noticed, but I have a bit of an obsession with garb! And I'm far from the only one. Every year we get to see people display their creativity and skill through their costumes. There is such personality and thought put into these. ORF is an opportunity for people to really flex their imagination. It gives people a venue to bring out a variety of impressive creations. There is no limit to what people will make and some of the construction is pretty impressive.
With the help of the ORFans, we've picked out the Top 10 Costumes at ORF! There are some really amazing pieces in here, so take a peek through for yourself! It's never too early to start planning for next year's garb!
---
March Hare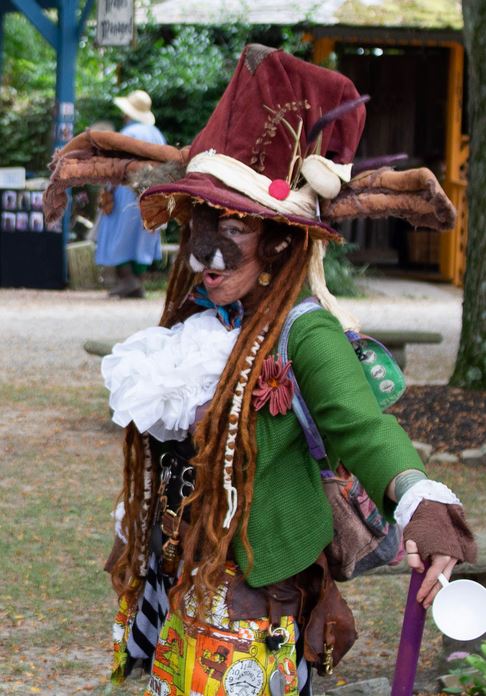 Straight out of Alice and Wonderland, the March Hare is here to spread a little madness! I love the bright colors and multi-dimensional look. It has a lot of personality and that unique look of being pieced together yet well thought out. The nose piece is a really great addition. It brings the profile out much better than make-up would.
---
Warrior Belle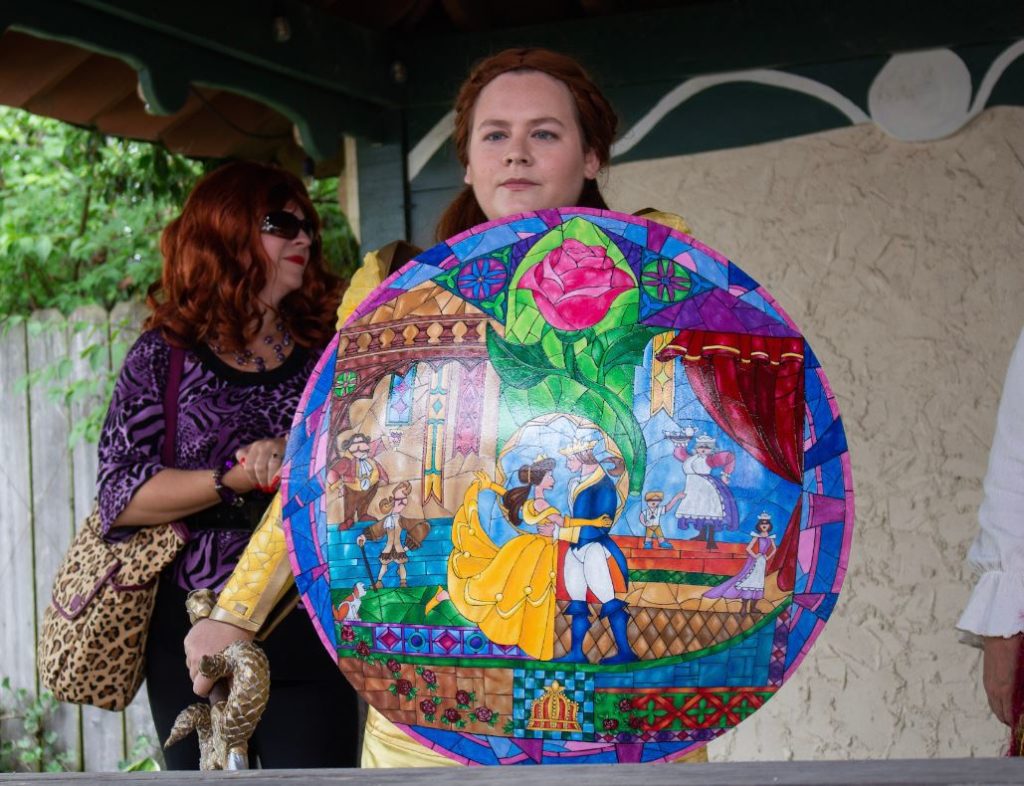 This was one of the most impressive pieces I saw during the Steampunk Symposium's Costume Contest. I spoke to the artists and she said the shield alone took her four months! That is some serious dedication, but it really made the outfit click. I hope to see this return next year, maybe with a few more princesses along!
---
Leather Barbarian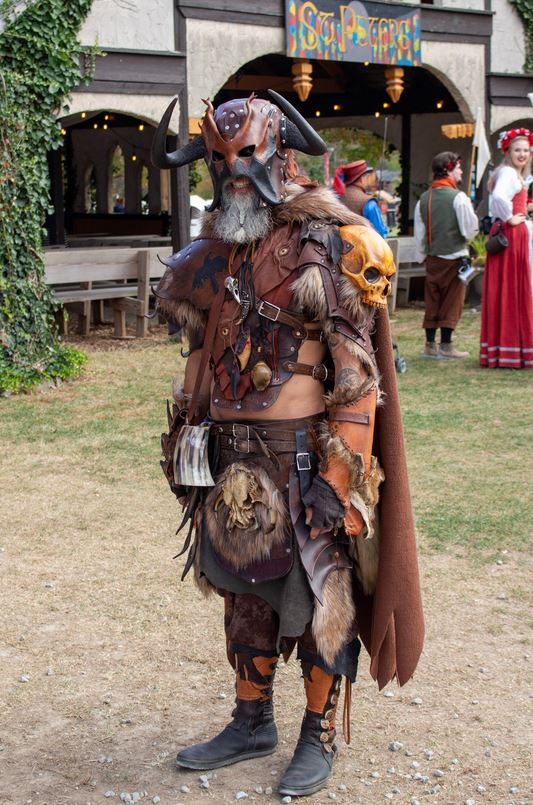 Nothing says barbarian like a ton of fur, horns, and leather! Barbarian weekend always brings the people living their best Conan life and I love seeing all the inventive, feral ways they bring it out. This guy was very sweet and happy to pose with a suitably berserk grin. He had a bunch of other barbarians with him, but this was a standout.
---
Jr. Dark Fairies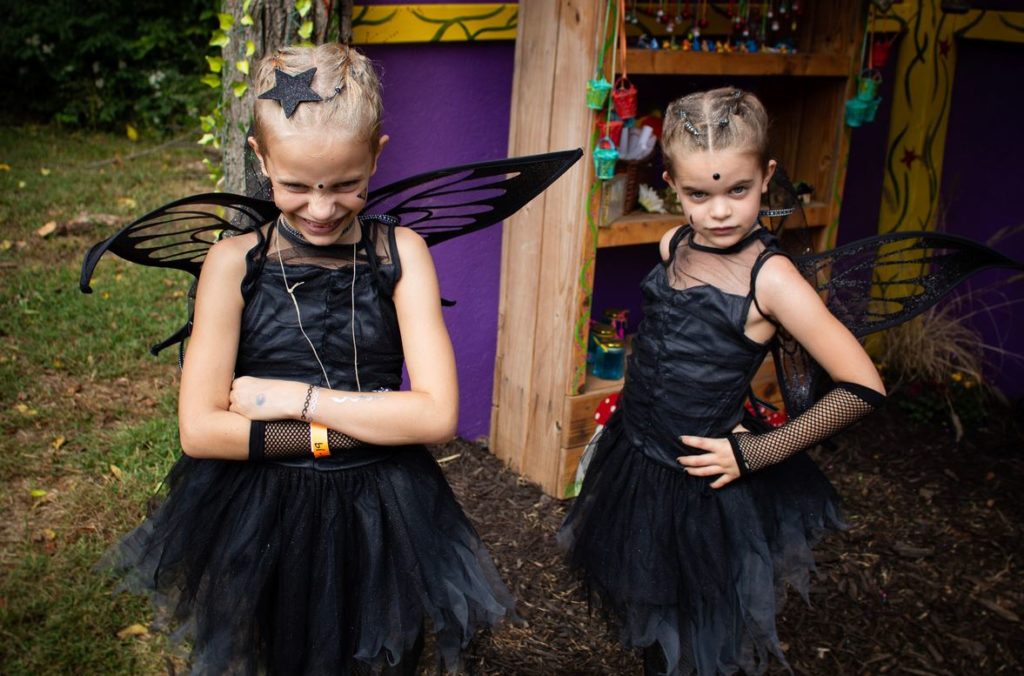 Amid a field of brightly colored pink and purple glitter fairies, these two made a splash! It wasn't just the costumes, but the pure attitude they delivered for their photo while they waited to talk to Spark the Fairy. I live for kids showing off their own personal style! Watch out for these two dark fae!
---
Well Dressed Lady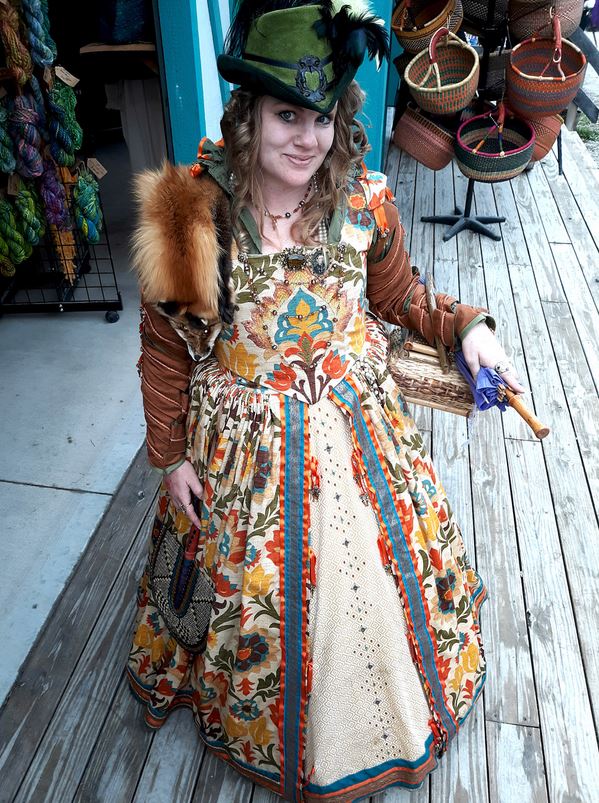 Nothing like brilliant colors and a well-coordinated outfit to bring home the fashion of faire. The beautiful pattern here is what really grabbed my attention, adding a modern flair to a classic silhouette. This must have taken hours of sewing to accomplish, and I love the additions of the hat and fox fur to really extend the outfit. Kudos to this lady!
---
Goddess of Summer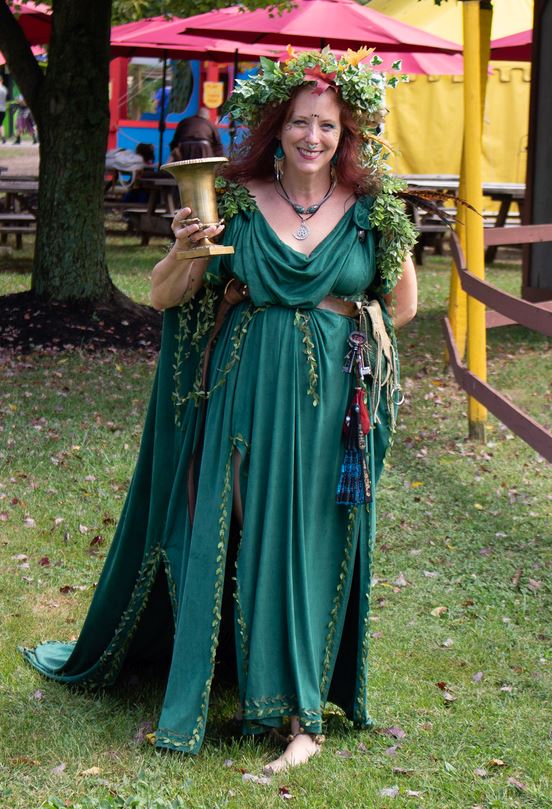 This subtle piece calls to mind both ancient fashion and the richness of summer! I love the way it drapes and watching it sashay as the wearer moved. It really worked in with the theme of Fantasy and the warm late summer air. For a minute you almost feel as if Gaia herself stopped by for a Guinness and some meat pies!
---
Dapper Gentleman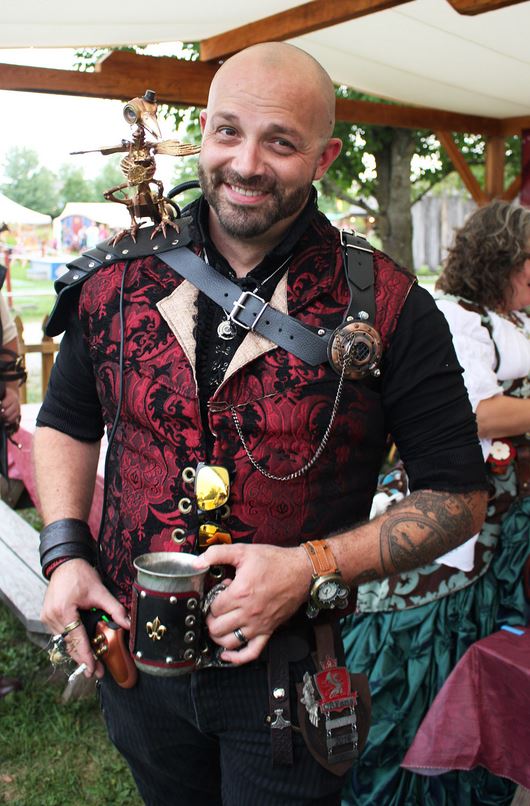 It's not every day you get introduced to a gentleman in a dapper waistcoat and his steampunk raven, Poe! I love the cut of the Damsel in this Dress waistcoat, and the battery-operated bird tied everything together during Steampunk weekend excitement! Just add a cold cup of cider and this ORFan was good to go!
---
Lillith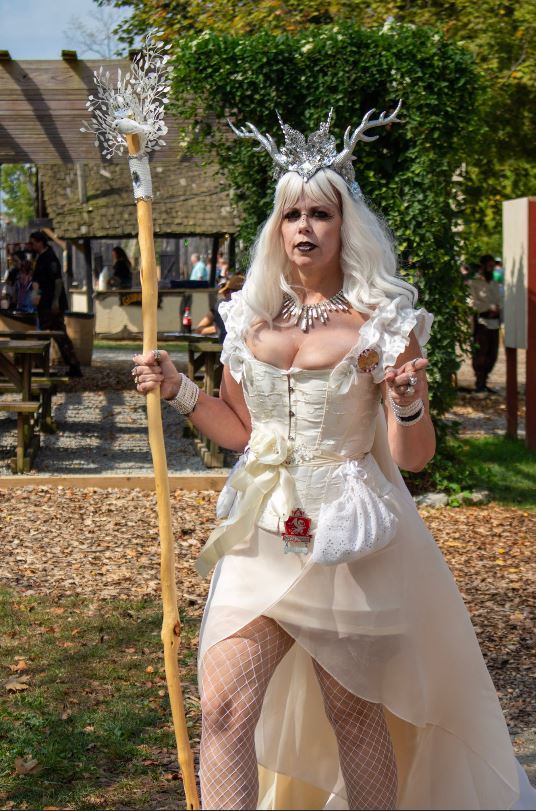 Not only an ORFan, but one of the Wenches of Myth, Lilith is the one who introduced me to the International Wenches Guild! Every weekend she came with a different garb from head to toe, and each time she was wonderfully stylish! I was especially fond of her wintery demon witch costume! With as hot as it was this summer I gladly would have offered sacrifices in exchange for some cool weather!
---
Inventor of Flight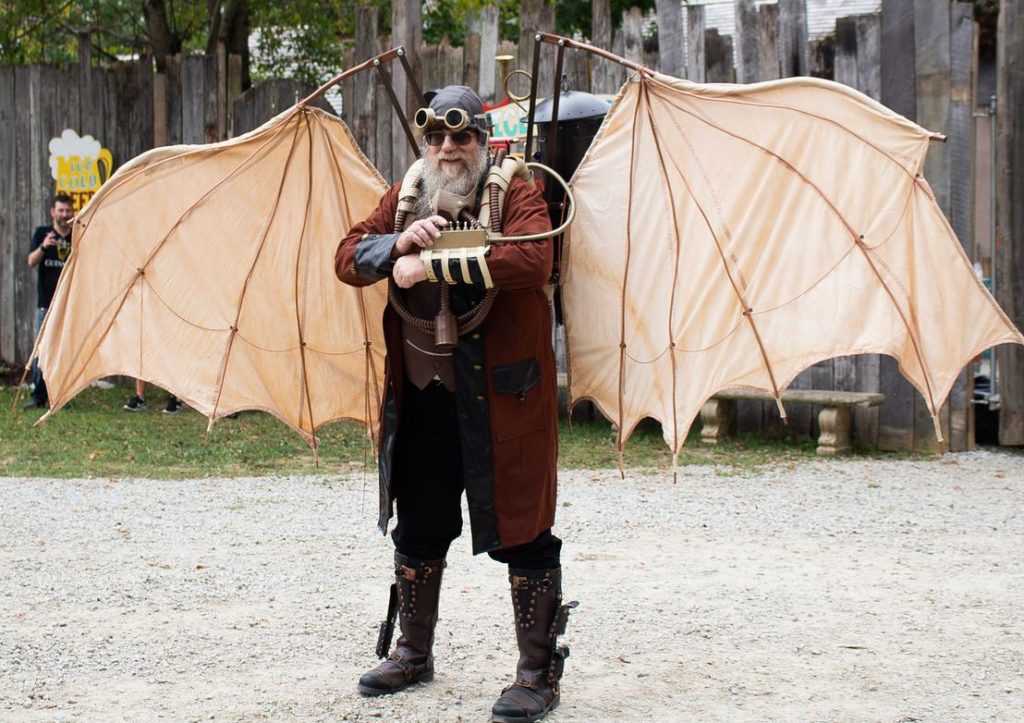 Not only were these wings stunning, but they were functional! Well…don't go jumping off the roof or anything. But they were still an impressive set to construct with a massive wingspan! Steampunk enthusiasts seem to take pride in creating pieces that are not just aesthetically pleasing but interactive as well. Hopefully, we'll see even more of that in future seasons!
---
Dragon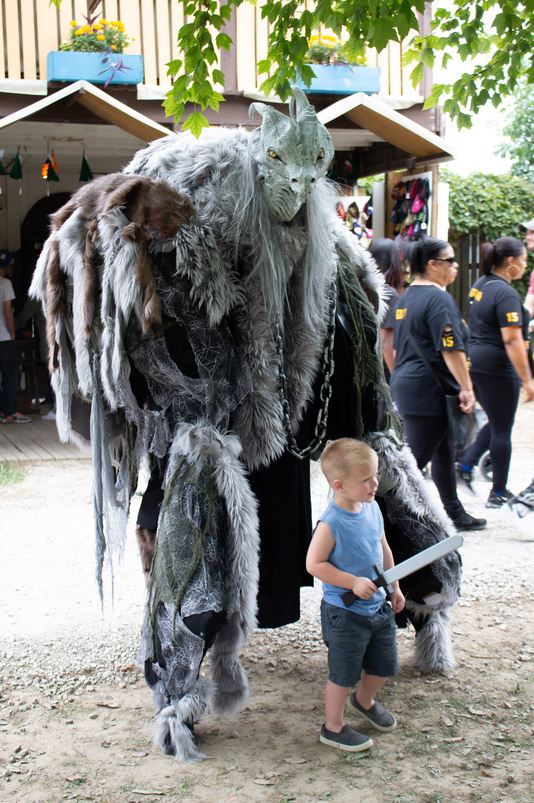 The top voted costume isn't just a matter of aesthetic or construction. But the fact that someone sat there one day and said "I'm going to build something that requires me to walk around on all fours the whole day." and continued with the build after that realization! This was a truly impressive piece of workmanship and the gentleman inside was happy to stop a hundred times that day for people to take pictures and ask him questions! It takes a lot of time to construct something along these lines so major props to the person who brought the dragon to life.
---
As the Ohio Renaissance Festival gains in popularity, we see more and more of this coming out in the lanes. People want to play along. They want to get involved and be a part of the spectacle. By dressing up and putting yourself on display, you only add to the whimsy and wonder that makes faire such a special place.
---
HONORABLE MENTION: NORFY THE BEAR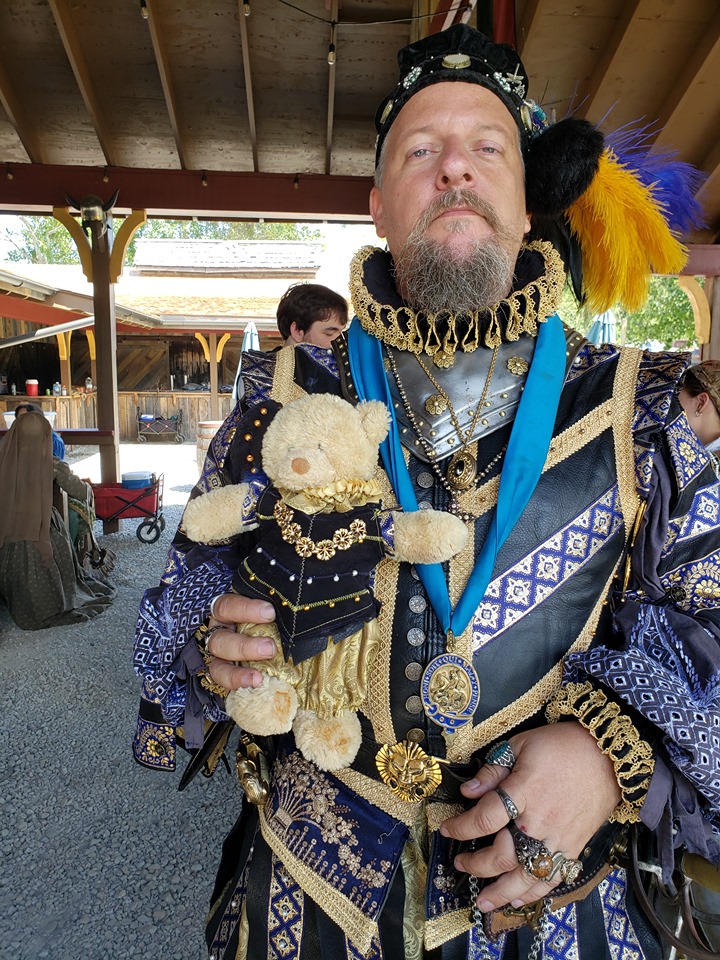 Norfy is Norfolk's childhood bear and always matches him. When Maddie (Lord Norfolk) became Norfolk and made his blue garb a few years back, we (my daughter and I) took some scraps and made a matching outfit for Norfy (in reality a bear my daughter has had since before she was born.) It was his birthday present from Cosette (my daughter who plays his daughter at faire.) This past year Norfolk changed his garb, so obviously, Norfy changed along as well!"

Carol Giordano Payne