Time Travelers Weekend
September 28 — September 29, 2024
10:30 am — 7:00 pm
Dress as your favorite character inspired by a movie, TV series, comic book, sci-fi or fantasy work. Everyone is welcome!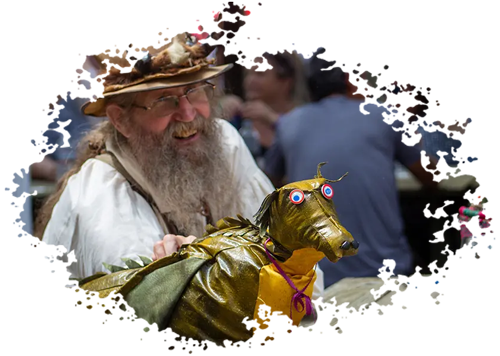 Enter the Multiverse at the Ohio Renaissance Festival's Time Travelers Weekend!
A Celebration of Comics, Sci-fi, Anime, and Cosplay | Experience Steampunk Elegance | Unleash Your Inner Geek
Get immersed in Steampunk culture and retro-futuristic wonders and step into a world where Victorian elegance meets alternative history at our Time Travelers Weekend. Experience the unique aesthetics of Steampunk fashion, where the charm of the Victorian era intertwines with a cyberpunk twist. Whether you're a fan of this retro-futuristic genre or new to its fascinating universe, there's a spectacle to captivate every visitor.
It's like a Comic Con at the Renaissnace Festival
Imagine the thrill of attending a Comic Con and Anime Convention all rolled into one and set in a Renaissance village! Dress as your favorite characters, inspired by anything from sci-fi literature to manga, and join other enthusiastic otakus in celebrating your shared love for these art forms. Whether you're into mainstream hits or niche gems, this is the perfect event to express your fandom.
DON'T MISS OUT ON THE ADVENTURE!
SECURE YOUR TICKETS TODAY!