Highland Weekend
September 21 — September 22, 2024
10:30 am — 7:00 pm
Lads and lassies, the pipes are calling for you to join in the celebration of Highland heritage. It'll be a real fling with themed competitions, bagpipes, haggis and more!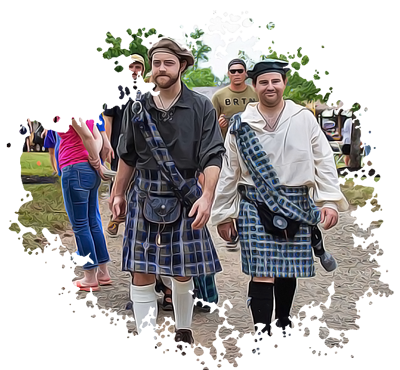 Celebrate Celtic Heritage at the Ohio Renaissance Festival's Highland Weekend!
Experience the Highland Games | Revel in Celtic Culture | Enjoy the Sound of Bagpipes
Lads and lassies, gather around for a weekend of Celtic charm at the Ohio Renaissance Festival. Experience the vibrant traditions, indulge in authentic cuisine such as haggis, and let the haunting melodies of bagpipes transport you to the scenic Highlands. The Gaelic spirit will come alive as you explore the customs and history of the Celtic people in an immersive and engaging setting.
Don Your Tartan: It's All About Kilts, Clans, & Celtic Music
Embrace your inner Highlander by donning traditional Highland attire, featuring the iconic kilt. Feel the camaraderie as clans come together to celebrate their shared heritage. Get swept away by the lilting strains of Celtic music, which echo the beauty of the Highlands. Between the Scottish dance demonstrations and the lively bagpipe performances, you'll feel like you've stepped into a scene straight from Scotland.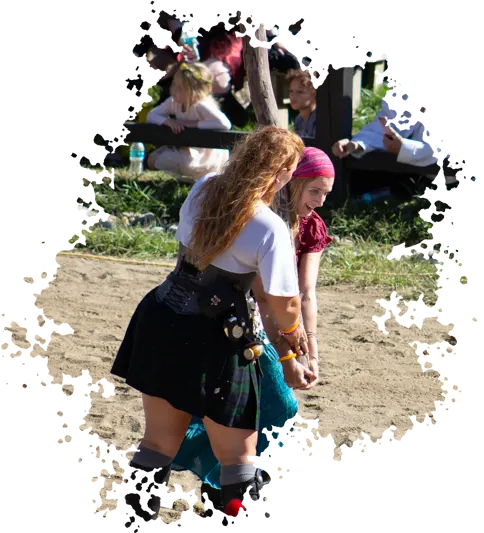 Join the Highland Games, a Testament to Scottish Sports
Get ready for a show of strength and skill at our rendition of the famous Highland Games. Experience the thrill of traditional Scottish sports, from the heavy hammer throw to the quintessential tossing the caber. Marvel at the kilt-clad competitors as they partake in these testaments to Highland strength and agility. With each game, you'll get a sense of the camaraderie and spirit that make these events so iconic in Scottish culture.
Special Events
Bagpipe performance | 10:45 , Noon parade, 5:30 Front gate
A special performance by Miami Valley Pipes and Drums
Piping of the Caber | 1:15 Arena of Champions Joust Field
A traditional Irish test of strength
Highland Games | 1:30 Arena of Champions Joust Field
Compete for the gold!
Haggis Eating Contest | Time TBA Arena of Champions Joust Field
How much can you eat?
Irish Wolfhounds | All day Gamers Grove
See these gentle giants.
Family Clan Tents | All day Gamers Grove
Find out more about your Celtic heritage
DON'T MISS OUT ON THE ADVENTURE!
SECURE YOUR TICKETS TODAY!