nleash Your Wild Side at The Naughty Bawdy Pub Show!
Experience a night of unbridled entertainment with The Sirens and other Ohio Renaissance Festival performers
Held at Feast Hall at 5:30 pm each festival day.
Adults Only Show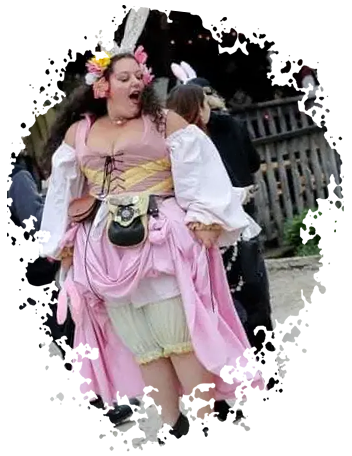 A Variety Show Like No Other
Our entertainers break out their NSFW material
Leave your inhibitions at the door as you step into a world of bawdy fun at The Naughty Bawdy Pub Show! This adults-only event is a thrilling mix of songs to make you blush, dirty jokes, and ear-reddening interactive show elements, all performed by the talented Sirens, Friar Finnegan, Axel the Sot, and other entertainers from the Ohio Renaissance Festival. It's a night you won't forget!
Tickets Include:
Two beers, ciders, or wine cocktails (Water or Pepsi products substituted upon request)
Commemorative pin,
Cigars are available for purchase during the show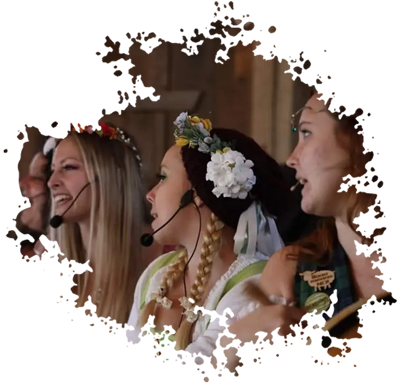 A Rollicking Good Time for Adults
This event is designed exclusively for individuals aged 21 and over, promising a unique blend of a pub atmophere, entertainment, and a comedy show that will get everyone laughing. Unwind and partake in an evening filled with bawdy humor, witticisms, and playful antics, ensuring a carefree experience at the Ohio Renaissance Festival. Let the convivial atmosphere of the pubs elevate your spirits as you enjoy the comedy show, an integral part of the entertainment, and relish in the wild side of adult merrymaking with fellow patrons.
Limited Tickets for an Exclusive Experience
Don't miss your chance to be a part of this one-of-a-kind event at the Ohio Renaissance Festival! Tickets are limited, ensuring an intimate and exclusive atmosphere for all attendees. Gather your friends and get your tickets now for a night of unforgettable, naughty fun!
TICKETS: $30
Tickets may be purchased at the 3 Fools Pub or the Special Event Booth.
Online ticket sales end on Fridays at 4pm proceeding the weekend.
Price does not include Festival admission.