hrilling Full-Contact Jousting Awaits You at the Ohio Renaissance Festival!
Experience the Intensity of Unchoreographed Jousting and Pageantry – Upgrade to Premium Seating for a Royal Treatment!
Every festival day 12:30, 3:00, and 5:30
Authentic, Full-Contact Jousting Competitions
Let's go Medieval! Get ready to be dazzled by the Ohio Renaissance Festival's high-energy, unscripted jousting event, a riveting part of the live entertainment, featuring audacious knights in gleaming armor. Each thunderous lance strike in this full-contact combat will leave you utterly engrossed. The authentic display of horsemanship, sportsmanship, and live entertainment is sure to keep you captivated throughout.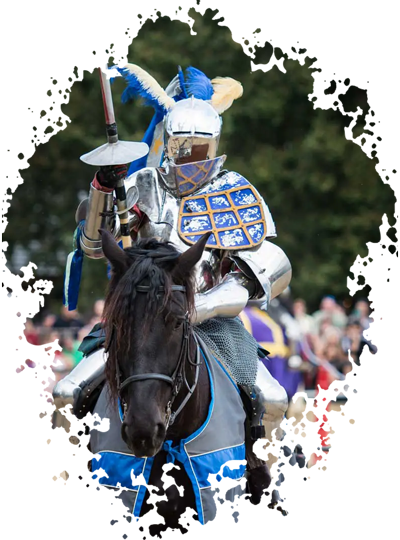 Experience the Pageantry of the Renaissance Era
Plunge into the lively ambiance of the Renaissance era at this family-friendly, kid-friendly event, where you will be part of an extraordinary spectacle of pageantry. From the bright banners and heraldic flags to the triumphant fanfare, this family-friendly experience will transport you and your loved ones back to the age of chivalry and bravery.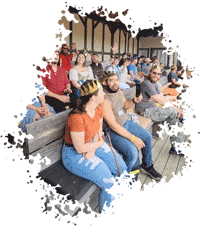 Upgrade to Premium Seating for an Unmatched Viewing Experience
Upgrade to Premium Seating for the ultimate jousting experience! Our exclusive covered viewing stand offers the best vantage point to witness the thrilling action up-close, while the cushioned seats ensure your comfort throughout the event.
Premium Seating Includes:
Cushioned seating under the covered viewing stand
Your choice of a bottle of water, Pepsi products or select bottles of beers
A gold crown to signify your Royalty
---
$10 PER PERSON
Purchase tickets at the joust field. Buy early in the day before seats are reserved! Look for the Premium Joust Seating sign.
Premium Joust Seating is handicap accessible.
Experience the Thrill of Live Jousting!
Don't miss the heart-pounding action of full, armored combat jousting every festival day at 12:30, 3:00, and 5:30 PM at the Guinness Arena of Champions!