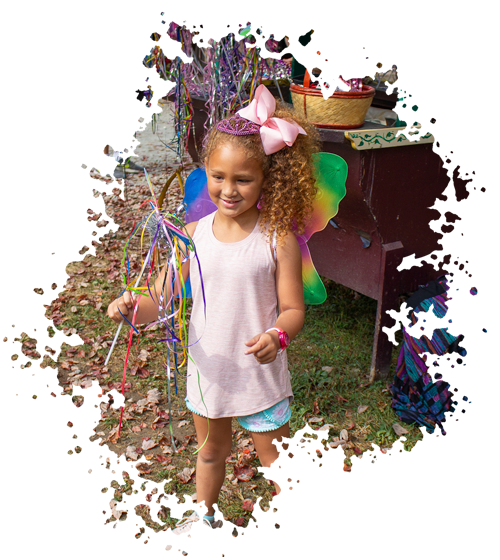 WELCOME TO A MAGICAL JOURNEY BACK IN TIME 🏰
Embark on an extraordinary adventure with your family at the Ohio Renaissance Festival. Immerse yourself in the pageantry and wonder of the past, all while creating timeless memories with your little ones.
As you step through our gates, you'll find yourself transported to an era of knights and queens, pirates and fairies. From heart-racing rides to interactive shows, enticing food options, and engaging walk-around characters, we've crafted an experience that transcends age and time.
Plus, this year, we're excited to introduce our new nature-based playground for our youngest visitors to explore as part of our 2023 park expansion.
Get ready to experience the Ohio Renaissance Festival like never before – where history comes alive and fun is ageless.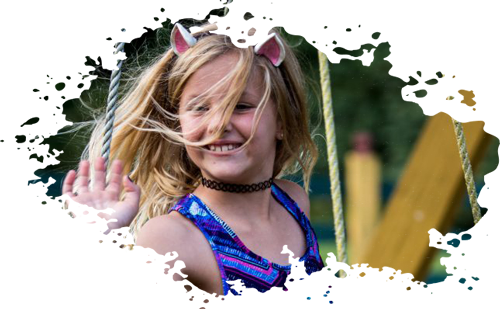 Joyous Rides & Games
Step into a world of medieval merriment with our captivating, human-powered rides and carnival-style games.
Human-Powered Rides like our Ship Swings, Crow's Nest, Barrel of Bedlam, Round About, and Pony Rides.
Games of Skill such as Axe Throwing, Archery, and tomato throwing.
Carnival Games like Catapulting Frogs, Jacob's Ladder, and Drench a Wench.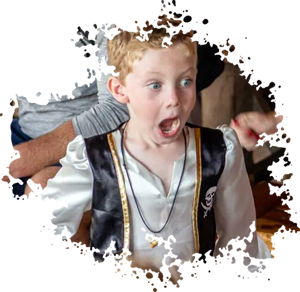 Delicious, Kid-Friendly Foods
Appease tiny tummies with our selection of scrumptious kid-friendly foods, guaranteed to delight even the pickiest eaters.
Popcorn & Ice Cream: Satisfy their sweet tooth with our freshly popped corn and creamy, dreamy ice cream in a variety of flavors.
Chicken Tenders & Pizza: Fuel their fun with these crowd-pleasing favorites – crispy chicken tenders, mac & cheese, hot dogs, burgers, and delicious, cheesy pizza slices.
Drinks Kids Love: check out the Kid's Drink Stand near the Natural Playground for all sorts of non-alcoholic, limited caffeine beverage options.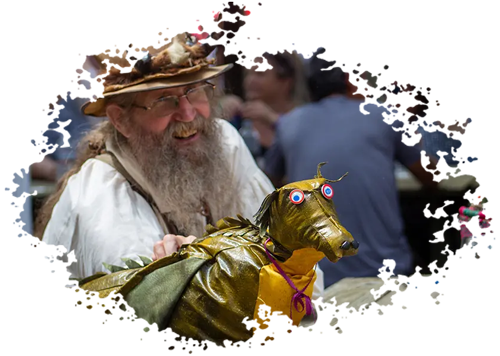 Engaging Walk-around Characters
Our enchanting walk-around characters are guaranteed to enthrall the little ones, immersing them in a fairy-tale world of pirates, fairies, knights, and a royal court.
Daily Knighting Ceremony: Watch as Her Majesty the Queen confers the title of knight or lady (or any title you choose!) upon your child in a special daily ceremony.
Character Meet and Greets: Meet our friendly pirates, fluttering fairies, gallant knights, and our regal royal court. Don't forget to take photos for memories that will last a lifetime!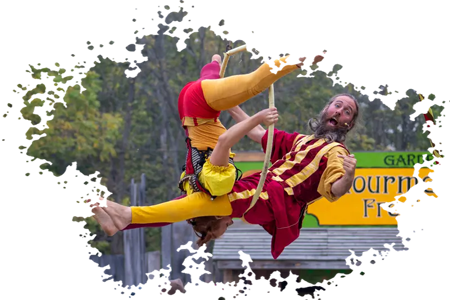 Entertaining Shows
From the thrilling to the awe-inspiring, our selection of live, interactive shows will leave your family mesmerized.
Live Jousting: Witness knights in shining armor charging towards each other in a spectacle of chivalry and courage.
Animal Shows: Get up close with a variety of animals and learn about their habits and habitats.
Acrobat Performances: Be awed by our talented acrobats as they tumble, flip, and perform breathtaking stunts.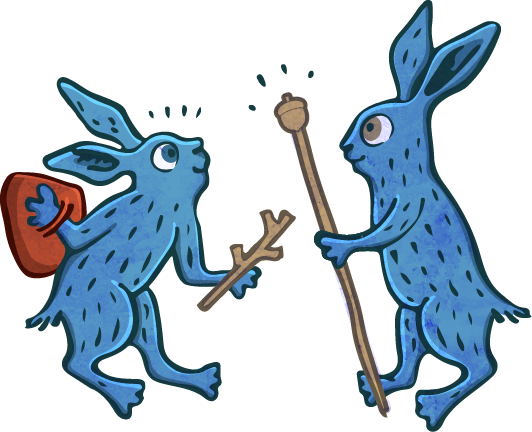 ✨New✨ Nature-Based Playground
We're thrilled to introduce our brand-new nature-based playground as part of our 2023 park expansion, where kids can connect with the natural world while having loads of open-ended, non-structured play time.
PLUS, look what our new extension uncovered: Meet our enchanting mascots – Mirth and Whimsy, two delightful rabbit characters that embody the spirit of adventure and imagination. Their backstory is as charming as they are. Once mere doodles in the margins of a monk's manuscript, they sprang to life through the power of the monk's yearning for adventure beyond his monastery walls.
Brought to life by his vivid dreams, Mirth and Whimsy now exist to guide our youngest visitors on their own journeys of discovery and fun. Keep your eyes peeled for these delightful rabbit mascots on signs, our printed program, and other elements around the festival. When you spot Mirth and Whimsy, you can be assured that a child-friendly attraction or activity awaits. Whether it's a thrilling ride, a captivating show, or a tasty treat, Mirth and Whimsy are your friendly guides to all the family-oriented fun that the Ohio Renaissance Festival has to offer.
So, let's hop into the adventure with Mirth and Whimsy, where imagination comes to life!
Family-Focused Amenities for Your Comfort & Convenience 🍼🏥
We want to make your visit to the Ohio Renaissance Festival as comfortable and worry-free as possible. We understand that families have specific needs, and we've thoughtfully curated a range of amenities to ensure a seamless and enjoyable experience.
Changing Stations: Each of our restroom areas is equipped with baby changing stations, making it easy and convenient for you to attend to your little ones' needs.
Gender-Neutral Bathrooms: We believe in inclusivity and comfort for all our guests. We offer gender-neutral bathrooms for anyone who prefers this option.
Exit & Re-entry Hand Stamp: Need to pop back to your car during the day? No problem! Our easy re-entry hand stamp system at the exit allows you and your family to move freely from the festival to your vehicle and back, making your day as flexible as you need it to be.
Emergency Medical and Security Staff: Your safety is our priority. Our dedicated emergency medical and security staff are on-site at all times, ensuring your day is as safe as it is fun.
So, pack your day bag and join us at the Ohio Renaissance Festival, where your family's comfort and enjoyment go hand in hand.
Book Your Tickets Now! ⏳🎟️
Don't let this timeless adventure slip away! Whether you're stepping into our enchanted kingdom for the first time or returning for another exciting journey, a day full of wonder and merriment awaits at the Ohio Renaissance Festival.
Join us for a day of family fun, laughter, and magic.